There has been an ongoing debate over SEO and PPC Advertising as to which technique provides better value to an online business. If you are new to the world of digital marketing, it can become difficult for you to figure out which one is better for your business. In order to understand which strategy is better for your business you will need to learn about PPC management Toronto and SEO in details.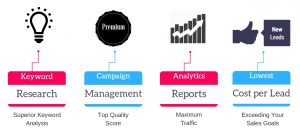 SEO & PPC
Both SEO and PPC form a part of online marketing strategies. While PPC stands for Pay Per Click Advertising; SEO stands for Search Engine Optimization.
SEO helps to optimize a site and draws visitors to a site through the search engine results. PPC is slightly different. PPC refers to Internet Advertising where ads are displayed on the top sides of search pages. For example, the ads that appears on the Google result pages. Advertisers only need to pay only when their ads are clicked by the visitors. The basic idea behind PPC is to allow businesses to reach out to targeted audience very fast.
Why Is PPC Better Than SEO?
The objectives of SEO is to do with branding, building authority, creating new connections, and building trust. However, with PPC, the objective is to generate more conversions. The best thing about PPC is that if the outcome is unable to meet the objectives, then the PPC Campaign can be changed easily.
The reasons why PPC management in Toronto is far better than SEO for some businesses are mentioned below.
Better Control
Unlike SEO, PPC allows businesses to have better control. In SEO, businesses have restrained ability to guide user's experience. But, with PPC, one can have total control over the advertisements. Owners can control the landing page as well as the keywords in order to get better results. The PPC Manager can help in increasing sales and improving conversions. One can easily manage the audience so that they get converted to customers.
Keyword Selection
For PPC Campaign, keywords are chosen in order to attract targeted customers towards the site. Thus, the focus of this marketing is very specific than even a SEO can provide. It can help to exclude certain groups of people who may not be interested in converting to potential customers.
Better Feedback
With SEO, one gets to work on building online reputation and creating engaging contents for the site. It can take months to see what technique works. On the other hand, with PPC management Toronto one can easily find out what works and can provide better results.
Better Service
On the SEO front, Google can't help advertisers. In order to get help, they need to take help of online tools. But for PPC management, one can get help from the online support team.
Level Playing Field
In SEO, a site might have a lot of links. It can contain engaging contents for online users. For new companies, competing at the SEO level becomes difficult. However, with PPC agency Toronto, all businesses are on the same field.
Thus, PPC Advertising, being more focused, can help to get the required results.